MY STORY
From as early as I can remember I loved playing 'dress ups', enthusiastically asking my mother if I could 'try on her clothes', delighting in the variety of garments hanging in her wardrobe (including kaftans and chunky platform heels). In fact, when I could convince any female elder within my family to allow me the privilege of opening their wardrobe so that I could peer inside, it was an incredible joy. I'll never forget wearing my grandmother's gold strappy high heeled sandals and matching it with one of her glittery metallic belts. This was the 1970's and everyone was dancing to ABBA! I could spend hours pawing through my gran's jewellery boxes, which was such a giddy treat – to touch the plethora of sparkling costume jewellery – my eyes were never so wide. I was intrigued by the attention to detail that my female influencers conveyed – my nonna's meticulously applied lipstick before exiting the house, my gran's classic hairdo, dutifully tied in a French twist. My mother confirms I was a lover of handbags and 'went shopping' every day in my little red plastic car (pedal powered of course).
Without a doubt, my calling in life is to serve and help others. I passionately believe everyone deserves to look and feel great. Being kind, listening, putting people at ease, and instilling self-belief in others, makes me smile. As an educator for twenty years, I relished daily opportunities to foster self-confidence in my students and celebrated their transformations. My clients tell me that what sets me apart is my ability to read people, communicate effectively, and motivate others in order to bring the best out of them.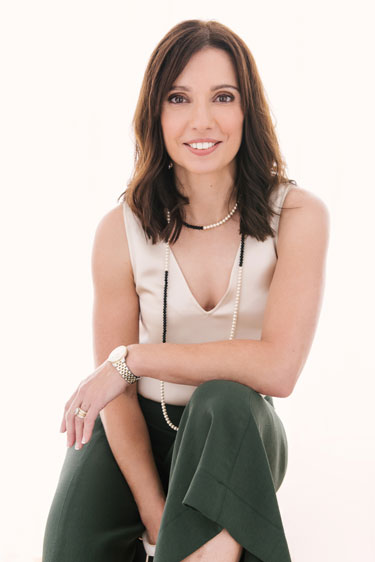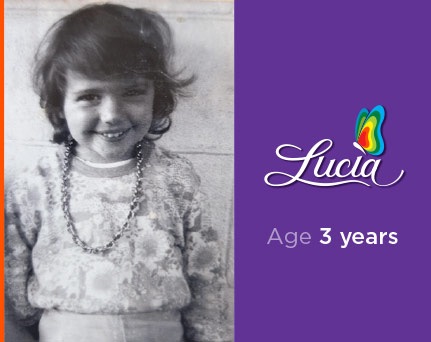 1974 at three years of age, I loved a shiny necklace!
At 51, married, with three sons, I'm well aware that life continually changes. It is short, and it is precious. When my parents were both diagnosed with cancer, within months of each other, it was devastating news and hit hard. But it reinforced my earnest belief that life is to be embraced. So, I completed a certified course in personal styling at the Professional Styling Academy in Sydney, with one of Australia's most experienced stylist's, before embarking on establishing my own consultancy business, 'Lucia's Personal Styling'.  I have since added to my qualifications by attaining certification in Advanced Mulit-Racial Personal Colour Analysis.
Lucia's Personal Styling is about unfolding your inner beauty to outwardly shine. So, whatever your personal styling needs are, I am at your service.
It doesn't matter what age we are, or shape, or size or height. What matters is that we deserve to feel good now, because 'now' is all we have! I'm going to be really open and honest with you – I am perfectly imperfect. I have broad shoulders, muscly legs, a large birthmark that covers my thigh (that I was often teased about at school). I have lots of scars and very narrow feet; finding shoes to fit is always a challenge! There are 'bits' that I don't like, parts of me that I am insecure about, but I also know that I am my harshest critic. (I have a feeling that you might be your harshest critic too.) However, my body features are what make me unique and interesting. And I have also learnt to work with what I have and enhance my best features, wearing clothes, shoes and accessories that make me look good and feel great.
There are probably some features you do not like about yourself, but I know for a fact, that you are uniquely beautiful. The impact of wearing something that makes you feel fantastic is very powerful and makes a difference to the way others perceive you and how you perceive yourself. I want to help you look and feel fantastic now. I want to help you enhance your best features so that you feel self-assured and project positive external energy. I want to see you embrace yourself as you are. It's amazing how much better you feel when you take the time to promote the best version of you.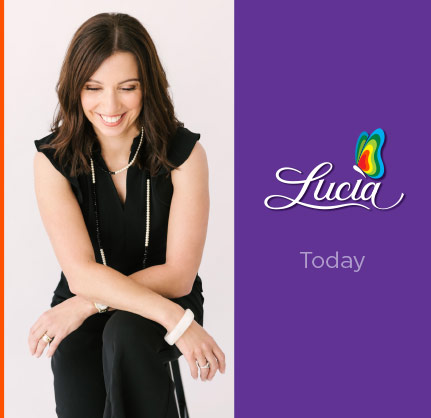 2018 and still loving my accessories!
Do you need to unclutter your wardrobe but just don't know where to start? Do you need help working out what cuts, styles and colours of clothes work best for your shape and complexion? Does your professional image need to be elevated so that you are able to present your 'visual story' with greater impact, confidence and ease? Do you need support building a new seasonal capsule wardrobe, or perhaps you need help finding the perfect outfit for an upcoming wedding or other special event? Are you time poor and need someone to do all the leg work for you? Do you want to save the effort and expense of bringing home clothes that are simply not right? Have you recently put on weight or lost weight, experienced health issues, or just don't know where to go to find some basics to dress your body shape? Do you get overwhelmed when you shop and can't ever seem to find a store assistant to serve you? Do you look in your wardrobe and feel disheartened? Are you tired of the image you are projecting and feel it's time to administer some self-care, and boost your self-confidence?
If you answered yes to any of these questions, then let me help you. You are important. You are special and unique. You are worthy of self-care. You deserve to look and feel great.