Dressing for a petite frame
I am so passionate about supporting all women to unfold their inner beauty and outwardly shine. In my former career as a high school educator, I was particularly intent on ensuring that my teaching style was 100% inclusive. This meant that all my students, particularly those that were on 'the periphery' (those that didn't quite fit into the system because they were 'different' for a variety of reasons) were accepted and equal to everyone else. They were made to feel that their 'difference' was a gift and a beautiful thing! None of my students in my classes were ever left out of anything; each one of them was special, unique and worthy of the best education that I offered. And so, it is the same when I style my clients!
I want my clients to know and believe that they are NOT defined by their shape or height or age or anything to do with their physical appearance. What I want them to understand is how to enhance their natural beauty. By allowing someone with an objective eye to show them how to do that, transformations take place. And it is often the internal ones that resonate the most. It's fantastic when a woman actually begins to see and then knows that she IS beautiful; she feels confident that she can rock a pair of jeans, she looks and feels elegant, classy, or sexy. By making a few simple styling changes, a woman's true identity is revealed. Her external appearance showcases her true self in a confident way that is harmonious with her personality and congruent with her lifestyle.
Today's blog is dedicated to women who are petite, and by that, I mean, shorter in stature. As we know, when buying clothes off the rack, it can be very hard to find the perfect fit and sometimes it feels impossible regardless of your height, size or shape. Women who are shorter or petite in size, may need to get items altered and if you do not sew, this can be an additional expense when buying clothes.
So here are some of my tips for purchasing clothes to suit a petite frame. And please understand that these are NOT strict rules, but merely a guide. It's always best to experiment. At the end of the day, personal style is personal and you must follow your individual likes and tastes. Here are some options to consider: –
Select block colours or tone on tone (monochromatic) colours. This means that your tops and bottoms can be similar in colour, or shades of the same colour. This will create an effect of elongating your overall body proportions.
If you wish to wear a dress and you like florals or geometric prints, select a smaller print to suit your smaller frame.
In relation to pants, experiment with those that have a higher waist, especially if you have an hourglass shape, as this can create the illusion of a longer leg line.  Straight leg pants are good but you can also try a wider leg pant that is made from a heavier, crepe-like fabric.  Weighted fabric will fall and drape well to create a line that doesn't flare or have too much volume.  You can also opt for a ¾ length pant or cropped pant which will sit longer on you and this may mean you avoid having to get them altered.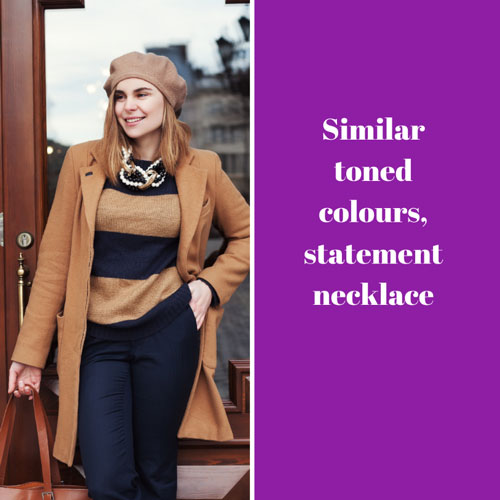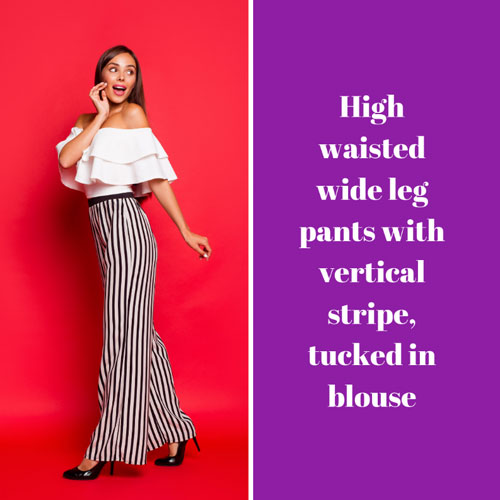 Select a shoe with a small or large heel (depending upon your comfort zone) to extend your vertical proportions.  Some shoes have inbuilt 'secret heels', like an internal wedge, to boost your height.  Ankle boots are a great option and work well with pants, skirts and dresses.  Shoes with pointed toes can look sleeker but of course, only purchase this style if they are comfortable; if you have a narrow foot, this option could work for you.
A vertical striped pattern can work wonders to create a longer line especially when selecting a pair of pants or skirt.
Try wearing a skirt or dress at knee height or just above the knee, if you are confident showing your legs.  And on your top half, wear a cropped jacket or shirt that is tucked in or fitted at the waist. Alternatively, try a longer cardigan or jacket in line with your skirt.
Accessorise to draw attention to your face with shorter necklaces and brightly coloured earrings or scarves.
Avoid very large or oversized bags if you have a smaller frame; select a bag size which is proportionate to you.
And remember, these are merely suggestions that may work for you.  If you prefer a big handbag, then go for it!  Everyone has different tastes and needs, so always follow your own style! And have fun doing it!
Keep shining!