Essential garments to layer up this Winter
When it comes to layering your clothing this Winter, here are my top ten styling tips for your consideration.
Start with a base layer – keep knits or long-sleeved shirts lightweight and preferably select tops that are made from breathable, natural fibres that will keep moisture away from your body. Wear a camisole or thermal singlet for added warmth if needed. For example,100% pure merino wool, thermal singlets are so well made, soft and non-itch; they are ideal to layer for core warmth. If you must stay away from wool, opt for a singlet or camisole that is semi-synthetic, made from regenerated cellulose fibres such as wood pulp, bamboo, cotton, flax, or hemp. You may recognise their names as Tencel, Cupro, Modal and Lyocell. Soft and silky to wear, these garments are made from fibres that have a lower environmental impact and are the best choice. They also tend to be quick drying, moisture wicking and stretchy, making them very comfortable to wear.
If your legs feel the cold, wear tights or leggings underneath your jeans and don't forget to add your favourite pair of socks and boots. Midi-length skirts and dresses allow for leggings to be worn underneath, for greater warmth, paired with long or ankle boots.
A pair of dark denim jeans or long pants in blue or black coupled with a lightweight knit or t-shirt is a great start for casual winter wear layering, especially up here on the Sunshine Coast. Select short or long-sleeved knits that are not too bulky allowing room for when you add a cardigan, jacket and/or coat. If you are not sure about the right cut of jeans for your body shape, select a mid-rise waist and straight leg with some stretch for comfort and flexibility. Ensure that you have selected a coloured top that enhances your complexion and flatters your figure. So, when the extra layers come off, you will still look fabulous.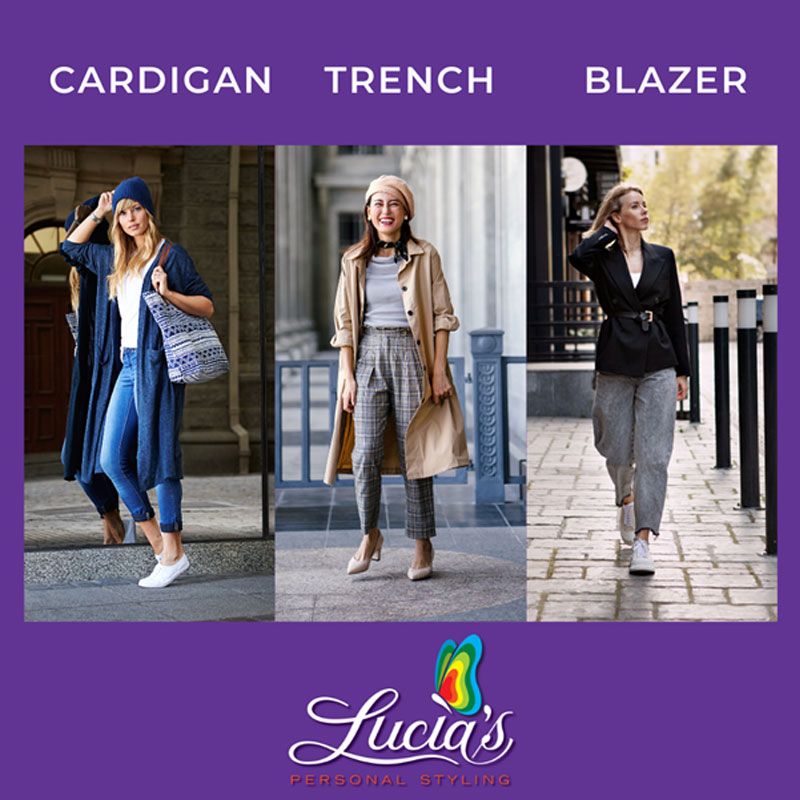 A long-line cardigan, trench coat and/or blazer are three great layering additions to anyone's Winter wardrobe.
Long lined cardigans are still on trend and they won't appear too bulky if you have kept your undergarments lightweight. Choose a cardigan in a neutral colour that can be matched back with other items in your wardrobe. I personally think that knee-length, or just below knee-length designs are best simply from a practical viewpoint in that you won't find yourself tripping over the fabric especially if it is too long. You can simply wear the cardigan open and over a knit or long shirt and roll up the sleeves, if you so wish. Dress up a long cardigan with a belt to create a waisted silhouette. Given long cardigans are quite voluminous, keep your bottom half streamlined and avoid baggy long pants or jeans. Instead, wear fitted long pants, a fitted skirt or long dress in a smooth flowing fabric; the contrast in textures will add interest too. Cardigans are suitable for home and/or work but watch your footwear and accessories so that you are appropriately attired.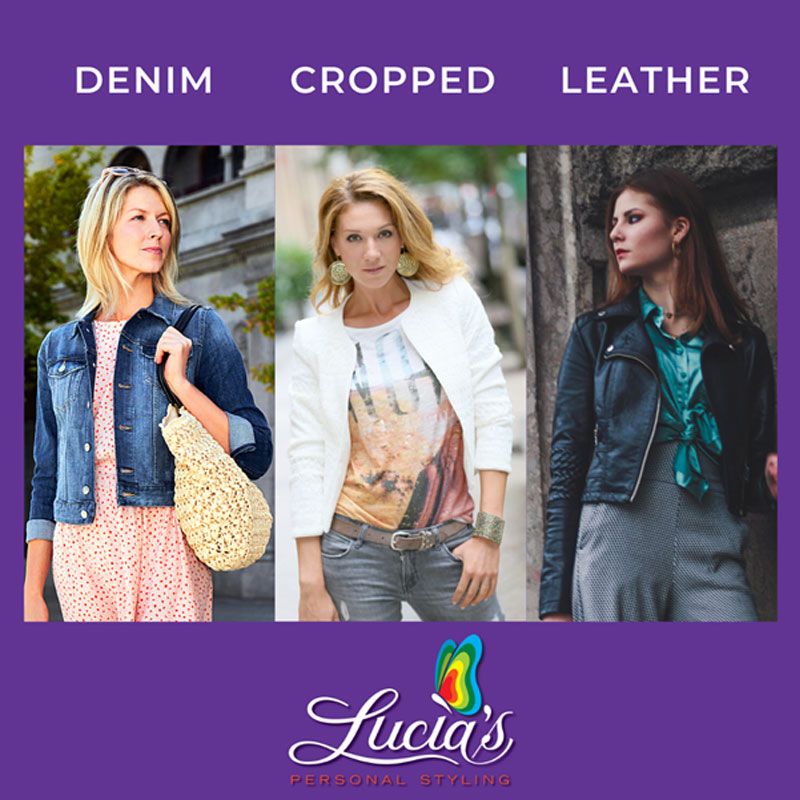 Cropped denim and leather jackets do wonders to create the illusion of a waist, or indeed, show off your shape. They look great layered over midi and maxi dresses too, drawing the eye upward and adding height if you are shorter in stature.
A quality blazer is an essential wardrobe item that will instantly elevate your personal style, portraying an air of sophistication and authority. If you wish to create some contrast with the blazer, by adding a shirt underneath in a pattern or print, make sure the shirt and blazer are similarly toned and their hues are congruent. You know how I think everyone should own a white or cream coloured shirt, right? Imagine wearing your white shirt under a light weight knit tucked into your jeans or pants with a belt, collar out and throw your blazer over the top. Alternatively, wear your white shirt unbuttoned over a fitted navy tee and add your blazer, or coat. If you want to show off your waist, or create the illusion of one, select a shorter cropped jacket or blazer (think Chanel); this will always look fantastic with denim jeans and heels. Make sure that the styles and colours of your layering pieces work well together in order to create a harmonious look.
The trench coat is a versatile, practical item of clothing that is a universally recognised fashion staple. The history of trench coats is fascinating. Worn by army officers in World War 1, and literally in the trenches, this garment protected soldiers from the elements of wind and rain. But this coat was developed even earlier by others including the iconic designer, Thomas Burberry. He created a waterproof twill fabric that was also breathable called 'gabardine'. (Mros, 2020) Burberry's fabrics became popular with those who preferred the outdoors including sportsmen, explorers and aviators. (Mros, 2020) Given its lightweight appeal, the trench is what I like to a call the ultimate 'triple layering treat'; it can be worn over a blazer, for example, that is already layered over a knit or other top. This double breasted, belted and buttoned garment adds effortless elegance to your layering look.
Ponchos are fabulous any time of day or night and add elegance to an outfit. They are super easy to wear; they cover tummy areas and their asymmetrical lines flatter all figures.  Wraps and scarves make wonderful travel companions as well, adding colour and class to your outfit. For Winter, look for cashmere, merino wool and New Zealand Merino Mink.  Merino Mink is made from possum fibre that is incredibly warm and soft, without being bulky.  The fibres wear well and do not pill, making them a very sustainable, cost effective clothing item. I understand that this topic is a sensitive and controversial one, especially for those of you prefer vegan options. And the purpose of this blog is not to 'open a can of worms' at this point, however, I think it's always wise to research 'areas of concern' in order to arrive at a decision that you are comfortable with.  From my understanding, Possum fur is a natural product that comes from renewable resources. In comparison, fake fur is made from petroleum-based products derived from non-renewable resources. In fact, it can take up to 10 barrels of oil to make one fake fur coat. Possum fur has a life span of up to 30 years, whereas fake fur can take up to 1000 years to biodegrade. https://www.dailymail.co.uk/femail/article-3875850/The-faux-fur-timebomb-Think-saintly-picking-fake-fur-couldn-t-wrong.html  The biggest argument against the fur trade is the treatment of animals. However, in New Zealand, there are no fur farms. (McDonald, 2018) Possum fur in New Zealand comes from wild pest populations. The Department of Conservation agrees fur recovery is one of the solutions for the control of possums for natural heritage protection.  So, I encourage you to keep an open mind and if in doubt, research further so that you are fully informed.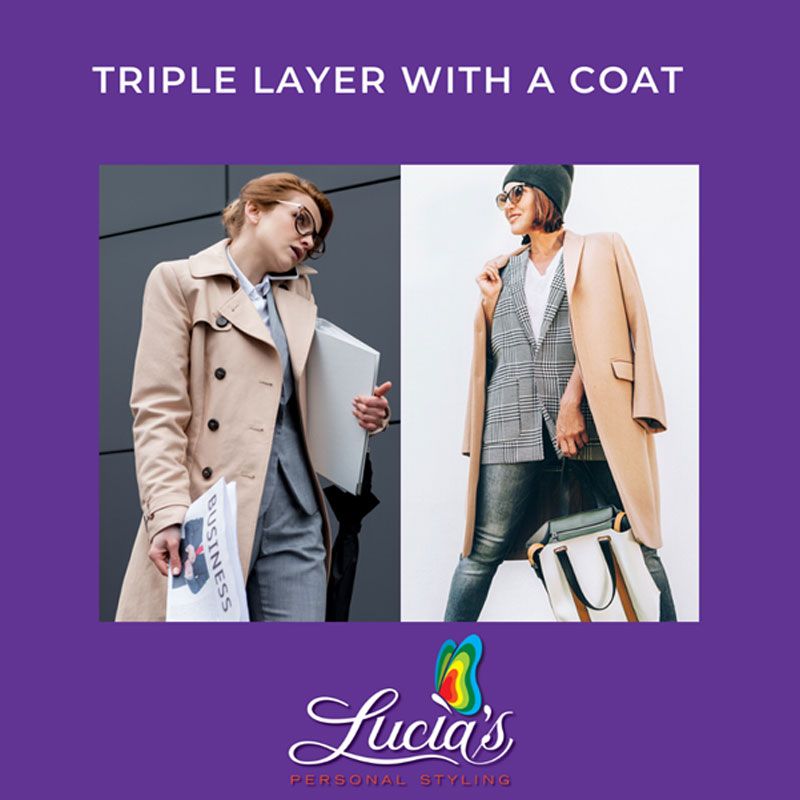 Seen here, a trench or long coat can create a 'triple layering treat' by wearing over a blazer or suit jacket, business or street style.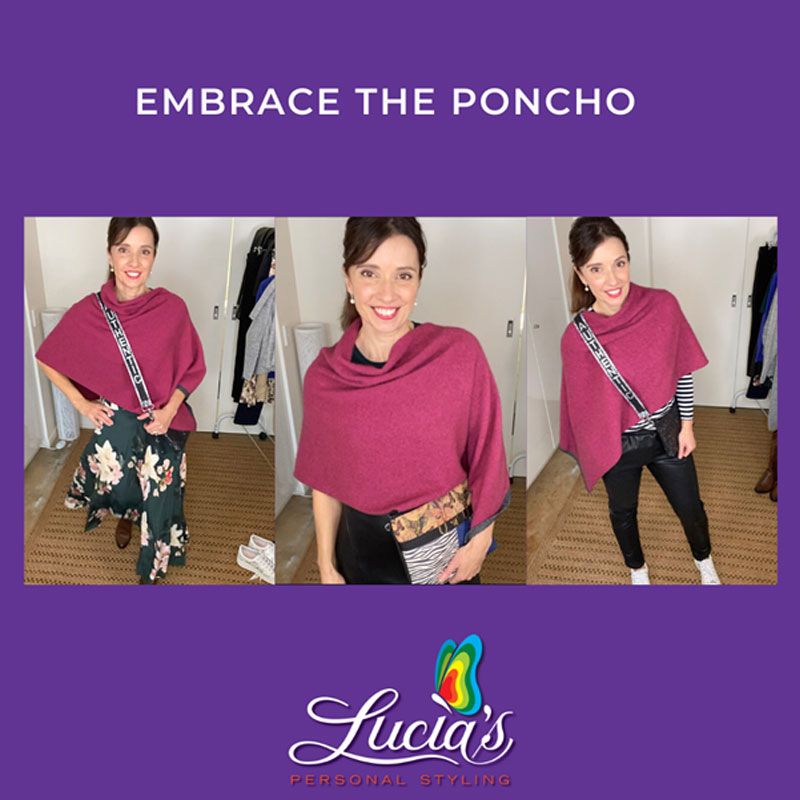 I'll be wearing the Merino Mink poncho this Winter
If you are shopping online for any of the above-mentioned wardrobe staples, make sure the colour or print will complement the clothing you already have in your wardrobe.  Aim to co-ordinate one new item with at least half a dozen other pieces in your wardrobe.
Keep things simple and ask yourself whether a particular garment will be able to be worn for years.  In other   words, is it a piece that won't date, that washes and wears well and that you absolutely love?
For those of you who wish to see where you can purchase some of the listed layering garments above, then click on this link below.  This will take you to the Shop Share TV online site where I have prepared a short video for you. https://shopshare.tv/shopcast/U2hvcGNhc3Q6MTY4MQ==