The decentralisation of fashion and the impact on 'personal style'
I was watching an episode of the 'Voice' the other evening when Kelly Rowland (one of the featured judges) told a contestant that "there are no rules anymore".   And then she said the word 'internet'.  The point that she was making is that the internet, with its speedy network of interconnected global communication systems, means that the opportunity for individuals to be heard or seen by millions of others is so much more accessible than it has ever been before.   Traditional ways of 'getting to the top' can be bypassed to some extent, allowing for a much wider open door.  I would argue that the same is true in the fashion world.  Top fashion houses can no longer set the 'fashion standards' alone because now, the individual influencers on social media are being watched, heard and elevated by the masses. The pace of business is faster than ever as it strives to adapt to the new ways that people consume.  Like it or not, so much of what we do and how we interact is online. And what's really interesting is because there is so much 'noise' on social media, standing out is becoming more difficult.  So, how do you stand out?  Well, one way is to be yourself.  Why?  Because you are unique and there's no one else like you.  If you market your brand on you and your authentic self, you provide something that is special, and individual.
And…. you may be asking, what does this all have to do with 'personal style'?  I think that this is an exciting time to really connect with who you are and present your 'truth' to the world.  Experiment with different styles of clothes and colours that you love, flatter you, make you feel great and allow your real personality to shine. There will always be trends, but there's no longer one trend that fits all.  I think the old-fashioned rules like 'blue and green should never be seen' and 'don't' do denim on denim' are fast giving way to new ways of dressing to express the individual self.  Obviously there needs to be adherence to employer dress codes or particular health and safely standards, but outside of these settings, the individual is free to shine more brightly than ever.  While we still have a way to go with gender equality, gender pay gap and gender objectification in the media, there is no singular type of woman or man; the age of the 'individual' is well and truly here and so too is 'individual style'.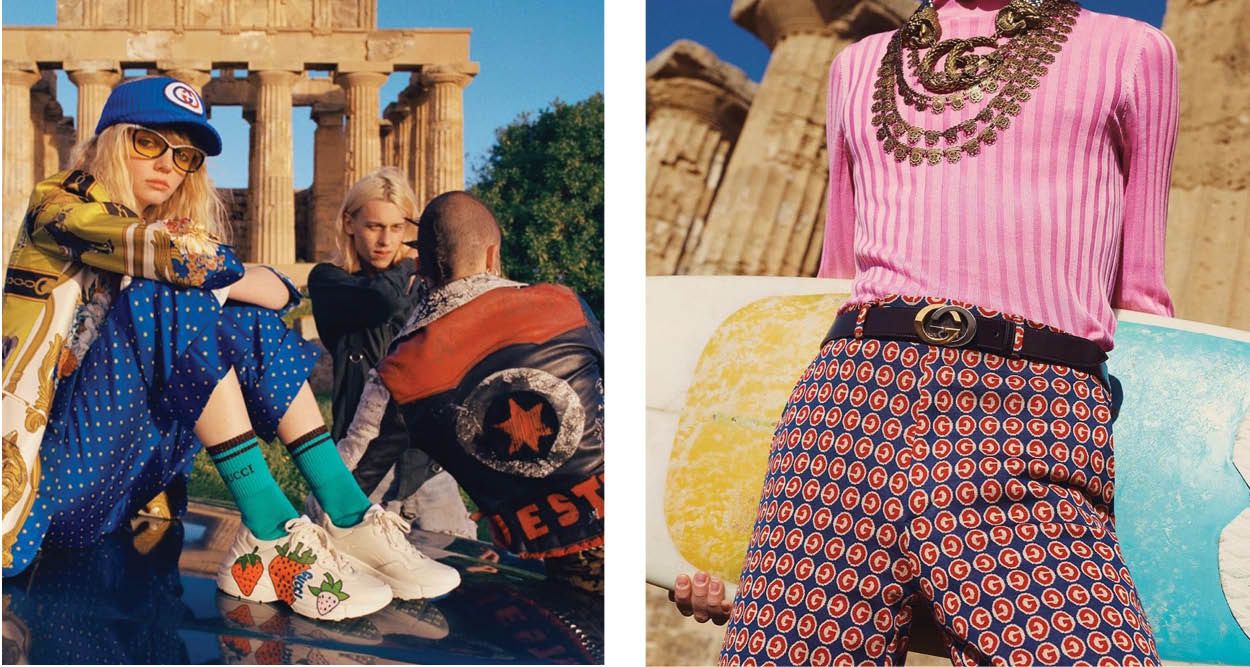 Gucci thinks blue and green can be seen….taking its cue from street-style eclectic fashion, and mixing print and texture.
(Instagram photos: @gucci)
I still think a polished presentation is key and one's outfit should be balanced and harmonious to complement your shape and complexion. As long as you are confident with what you are wearing, then go ahead, hold your head up high and show up to the world rocking your style. The great thing about today's fashion is that there are so many styles and looks to experiment and play with. From vintage designs, classic cuts, edgy forward fashion, street fashion, texture and print clashes, bold colours, neutral hues, recycled and upcycled fashion, sustainable fashion, vegan fashion, the individual is free to interpret and personalise trends based on their own personal style. This is a creative and inspiring time to reconnect with your personal style whatever your stage of life. So, be your own style and make sure you have fun because life is too short to be taken too seriously!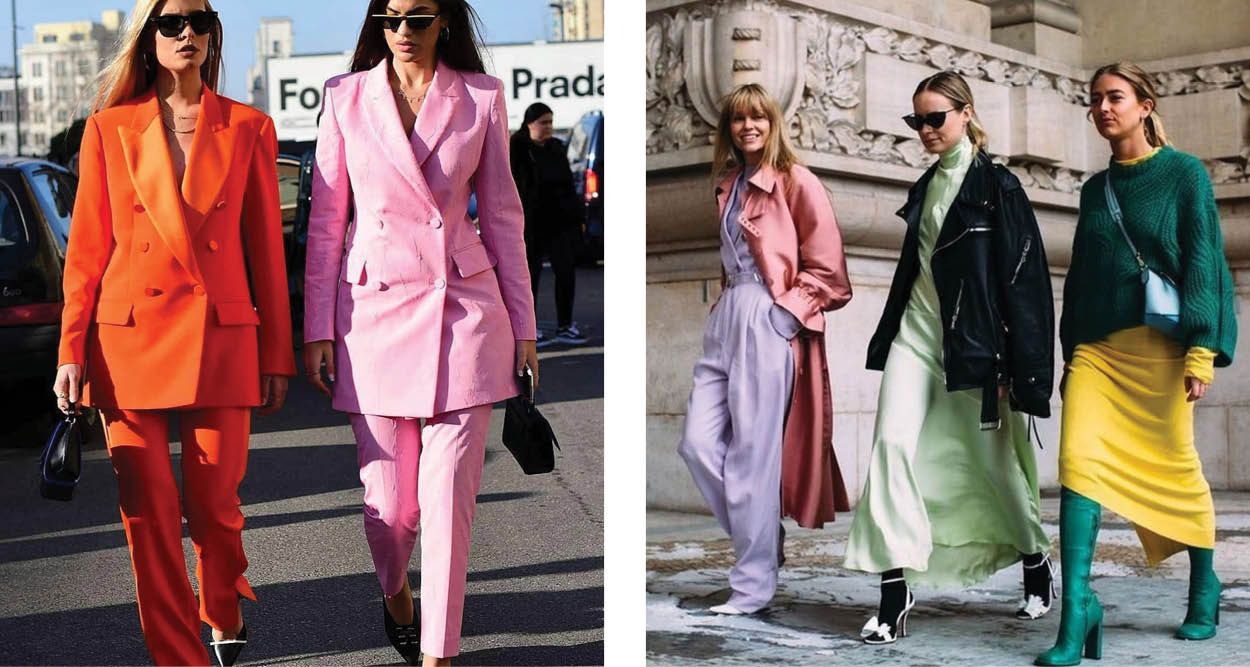 The 'power-suit', and bold and muted colour play…socks with heels, but confidence is essential
(Instagram photos: @modamodunca, @skandiastyle)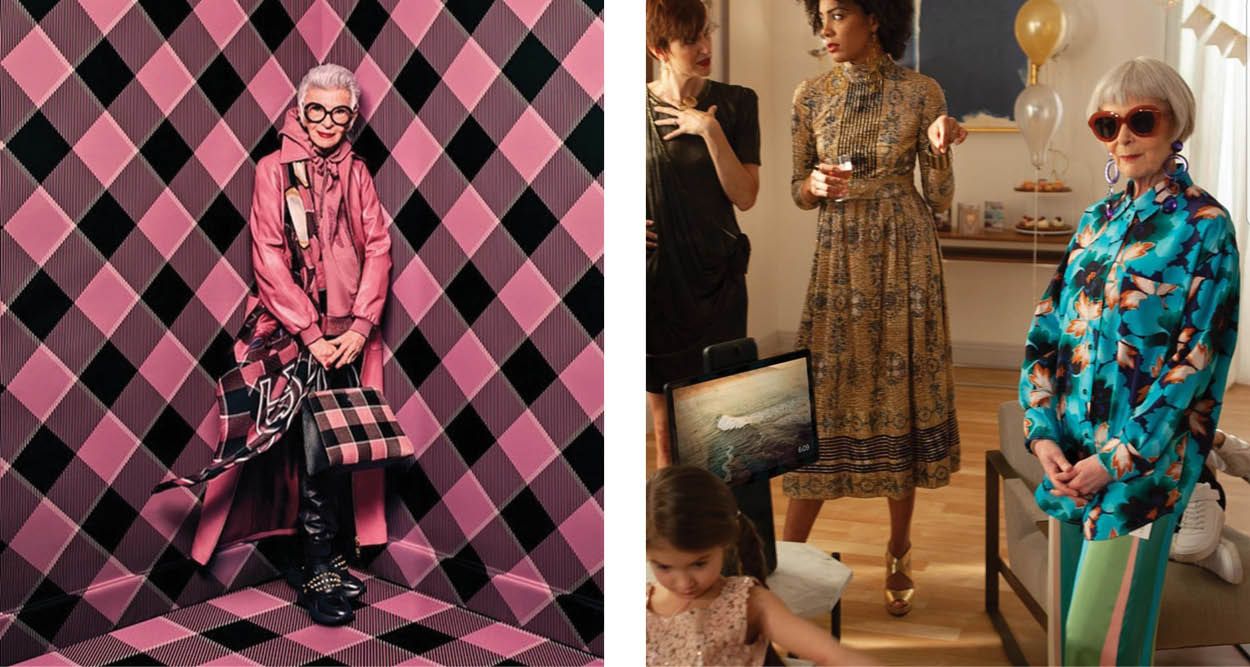 Two iconic fashion influencers of our time, Iris Apfel and Lyn Slater
(Instagram photos: @iris.apfel, @iconaccidental)